The Anchorite is a special form of the Monk class that exists for characters of the Marduk race. Within the Marduk religion exists a monastic strain. It is said that the souls of the Mardukim are not as tightly tied to the physical world as those of other races; this monastic tradition is a mystical one that aims to strengthen that bond. In so doing Anchorites gain powers based on the solidity of their physical forms.
The stat requirements for an Anchorite are: Str: 13 Con: 14 Wis: 14. Anchorites do not gain AC bonuses from a high Dexterity, receiving their own bonus instead. As an Anchorite progresses in level his or her skin is toughened,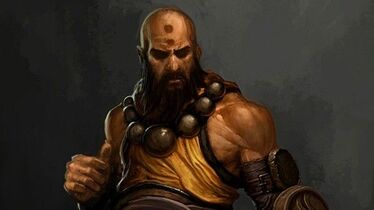 becoming more like stone. This brings an attendant AC bonus, shown as such below.
Like clerics Anchorites roll eight sided dice for hit points.
They make saving throws and strikes as rogues of the same level. They are unable to wear armour or shields but may employ magical items that grant AC bonuses.
The discipline of the Marduk monastic tradition is such that all Anchorites must be Lawful, although they may be good, neutral or evil.
Anchorites are trained in a martial art outlined further below. For each two levels of experience the Anchorite inflicts an extra point of damage with unarmed attacks. Eventually he inflicts an extra die (if the style deals 1d6 damage, he deals and extra d6). Anchorites also gain additional attacks per round when employing their martial art. These attacks are in addition to those normally gained through leveling.
Anchorites also gain abilities similar to the Thief abilities Move Silently, Hide in Shadows, and Climb Walls. Anchorites use the basic Thief percentages for these abilities and begin with 20 points to spread among them, gaining 10 / level thereafter.
Anchorites gain increased speed as they rise in level.
They begin with 3 weapon proficiencies and gain an additional one every five levels. However the Anchorite gains one wp every second level that must be spent within his chosen martial art. Anchorites gain non-weapon proficiencies as priests.
| | | | | |
| --- | --- | --- | --- | --- |
| Level | AC | Move | Add. Attacks | Add. Damage |
| 1 | 8 | 8" | - | - |
| 2 | 7 | 9" | - | 1 pt |
| 3 | 6 | 10" | 1 every 2 rds | 1 pt |
| 4 | 5 | 11" | 1 every 2 rds | 2 pts |
| 5 | 5 | 12" | 1 every round | 2 pts |
| 6 | 4 | 13" | 1 every round | 3 pts |
| 7 | 3 | 14" | 1 every round | 3 pts |
| 8 | 2 | 15" | 3 every 2 rds | +1D |
| 9 | 1 | 16" | 3 every 2 rds | +1D |
| 10 | 1 | 17" | 3 every 2 rds | 1D+1 |
| 11 | 0 | 18" | 2 every round | 1D+1 |
| 12 | 0 | 19" | 2 every round | 1D+2 |
| 13 | -1 | 20" | 2 every round | 1D+2 |
| 14 | -2 | 21" | 3 every round | 1D+3 |
| 15 | -2 | 22" | 3 every round | 1D+3 |
| 16 | -3 | 23" | 3 every round | 2D |
| 17 | -4 | 24" | 4 every 3 rounds | 2D |
| 18 | -5 | 25" | 4 every 3 rounds | 2D+1 |
| 19 | -6 | 26" | 4 every 3 rounds | 2D+1 |
| 20 | -7 | 27" | 4 every round | 2D+2 |
Special Powers:
First Level: At first level an Anchorite has learned to still his mind and find a deep focus within him or herself. The calmness and focus of the monk is such that he gains improved save results. Anchorites always take half damage from spells (except those designed to effect earth and stone) and save for ¼ when appropriate.
Third Level: The Anchorite gains the ability to speak with stone. Once per day per three levels the Anchorite may converse with a boulder, pillar, stone or other similar item. From it he may learn of recent events in the area, geological activity, the presence of minerals or metals, and so forth.
Fourth Level: The Anchorite may fall 30'+10'/lvl without taking damage so long as he or she is within 5' of a wall or similar surface. The Anchorite's mind is also well-disciplined, and divination spells aimed at spying on him or her have a 35% chance of failing. This resistance increases by 3% per level after 4th.
Fifth Level: The Anchorite is immune to haste and slow effects. The ability to stone shape is also gained. This ability is identical to the 3rd level priest spell of the same name, except fine detail is possible (though not complex moving parts).
Seventh Level: The Anchorite gains the ability to stone leap. Here and there throughout the world are scattered certain sacred sites venerated by the Mardukim. At these points portals of a kind exist where Anchorites and Mardukim priests can travel great distances. At a portal the Anchorite enters a sort of trance and sets his destination (which must be another portal known to him). His body then melds into the stone and vanishes, leaping across great distances to its destination where it reforms. Sometimes the characteristics of the new location's stone will be reflected—an Anchorite emerging from a marble portal may temporarily take on the striped appearance of that stone. If the Anchorite cannot emerge on the other end for some reason there is a 65% chance he will be returned to his point of origin; a 30% chance he will emerge at another, random portal; and a 5% chance that his consciousness is lost somewhere in the earth, trapped far below ground and formless.
Ninth Level: At ninth level the Anchorite automatically makes all saves that result in half damage, even on a failing roll. On a successful one he takes no damage, rather than ¼.
Tenth Level: The Anchorite is immune to poisons.
Twelfth and Thirteenth Levels: an addition free martial art maneuver.
Anchorites must also abide by certain additional restrictions. They do not accumulate wealth or land and may not own more than they can carry. They are expected to use what wealth comes their way to support their fellow monks and the poor.
Martial Arts
Edit
There are three different traditions of martial arts among the Mardukim. Each is outlined below. The Anchorite may only learn one style, and must choose it at first level. It cannot be changed thereafter. At character creation the Anchorite may spend any of his weapon or bonus proficiencies (if any) on martial arts maneuvers. He may take whichever he likes, but must gain the first in each category before he can gain the second in the same category. There after the Anchorite gains a new martial arts skill every two levels (levels 3, 5, 7, 9, 11etc). To gain the skill he must find and train with a master capable of teaching the skill.
First Style: Shattering Earth
Shattering Earth is the Anchorite school most focused on damage and pure force. It is often studied by physically powerful Mardukim and is intensely aggressive. It grants its practitioners an AC bonus of 2; 2 initial attacks per round; and rolls 1d8 for damage. Its moves are:
Strike: 1, 2, 3
Mental: 3, 4, 5
Movement: 1, 3
Lock: 3
Practitioners of Shattering Earth also tend to train in the warhammer and the mace; if this is the case the Anchorite may chose from the Weapon list in Oriental Adventures. These Anchorites tend to be involved in the defense of monasteries and Marduk communities. They are also most known for their martial exploits and their intolerance of injustice.
Second Style: Echoing Chasm
Echoing Chasm is the soft style of Mardukim unarmed combat. It is often pursued by the more contemplative Anchorites and leads to a serene but sometimes detached outlook. In combat its moves are crippling ones aimed at vital points. Echoing Chasm grants its practitioners an AC bonus of 5; 1 initial attack per round; and d6s for damage. Its moves are:
Vitals: 1, 2, 3, 4
Mental: 1, 4, 5, 6
Lock: 3
Movement: 4
Weapon: 3
Practitioners of Echoing Chasm may train in weapons but the style itself focuses on unarmed combat alone. Among the Mardukim these Anchorites tend to be the most mystical and otherworldly in their outlook.
Third Style: Thunder Axe
Thunder Axe is the third of the Mardukim styles, and is the only one primarily based on the use of a weapon, in this case, the axe. Thunder Axe arose from Mardukim legends, for several of their greatest cultural heroes fought with the axe. Thunder Axe grants an Anchorite an AC bonus of 3; 2 initial attacks per round; and does damage as per weapon. Its moves are:
Weapons: 1, 2, 3
Lock: 2
Mental: 1, 2, 3, 4, 5
Movement: 2, 3, 4