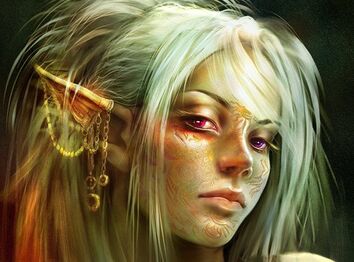 Among the four peoples of the Ashani (the Emeneshani, Korashani, Rendashani and Silashani) there are sometimes born children who are believed to be blessed by the aze-Ashani themselves.
Marked by eyes of a violet or purple shade these Ashani children are collectively known as the y-keletham, or "God-touched" in the tongue of that people. Among the Ashani these people are considered to be servants of Fate, born with a destiny they must fulfill (generally speaking, the Ashani do not believe in fate apart from this case). They are considered sacred among the Ashani. The raising of a Keleth child is considered too great a responsibility for parents alone; their education and training becomes the affair of their entire community.
Some of the most celebrated among the Ashani people have belonged to the tiny ranks of the y-keletham, including Kyriana Alqaviliya and Sabell Lisandi S'Ementar.
Ad blocker interference detected!
Wikia is a free-to-use site that makes money from advertising. We have a modified experience for viewers using ad blockers

Wikia is not accessible if you've made further modifications. Remove the custom ad blocker rule(s) and the page will load as expected.